Grandma Was Right After All: Parenting Wisdom from the Good 'Ole Days
"The world would be a better place if more parents listened to John Rosemond." -Duck Dynasty's Korie Robertson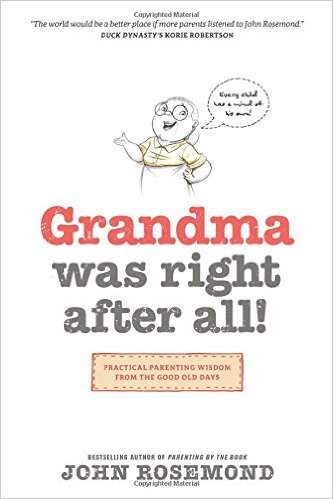 Today's parents are all but completely disconnected from the commonsense parenting wisdom of their parents and grandparents. The self-esteem parenting revolution has erased the practical insights gathered by generations of parents about the best way to raise kids.
In this book, John Rosemond seeks to recover this wisdom by resurrecting what parents of yesteryear tended to say. Most people remember the sayings:
"Because I said so."
"Children should be seen and not heard."
"You're acting too big for your britches."
"Every child has a mind of his own."
These maxims are more than cute sayings for John. They are parenting principles, springing from a biblical view of the world. John makes the case that these principles from the good old days are just as valid today and will help parents to pass on values to their kids so they can succeed in life.
Grandma was right after all!
International or Canadian shipping - Our website is not set up to calculate international shipping. Because we ship exclusively via USPS, shipping costs can be high, therefore we recommend purchasing John's books via an online retailer. Any international orders placed on this website will be canceled and refunded.