Parenting by The Book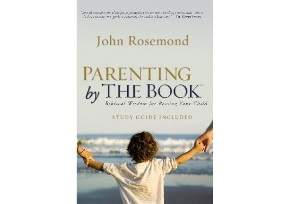 This book is like no other parenting book you have ever read or message you have heard. Written by a psychologist, it is not "psychological." It is down-to-earth. It is common sense. Best of all, it is based on the Bible; God's Word. You are going to resonate with this book. It's the real deal.
Picture respectful, responsible, obedient children who entertain themselves without television or video games, do their own homework, and have impeccable manners. A pie-in-the-sky fantasy? Not so, says family psychologist and bestselling author John Rosemond. Any parent who so desires can grow children who fit that description—happy, emotionally-healthy children who honor their parents and their families with good behavior and do their best in school.
International or Canadian shipping - Our website is not set up to calculate international shipping. Because we ship exclusively via USPS, shipping costs can be high, therefore we recommend purchasing John's books via an online retailer. Any international orders placed on this website will be canceled and refunded.