The Diseasing of America's Children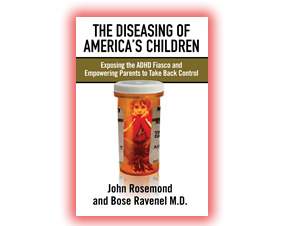 There are no easy answers to ADD, ADHD and other Developmental Issues. John Rosemond addresses these directly. His purpose is to tell the truth, the whole truth, and nothing but the truth about ADHD and the other equally fictitious childhood behavior disorders it has spawned, including oppositional-defiant disorder and early-onset bipolar disorder.
Research that would confirm ADD, ADHD and other Developmental Issues as real, identifiable biological states is completely lacking. Every indication is that the ADHD Establishment— consisting of mental health professionals, physicians, patient advocacy groups, and the pharmaceutical industry— has profited immensely off of a "disease" that does not have objective reality. But this is more than just an exposé. John Rosemond will share with parents tried-and-true methods of curing the behavior problems—defiance, tantrums, disrespect, and so on—associated with these diagnoses. Their practical discipline methods have proved successful for numerous parents and children across the USA. Whether you have a child diagnosed with ADHD, ODD, or EOBD or just an interest in the welfare of America's kids, do not miss this critical discussion.
International or Canadian shipping - Our website is not set up to calculate international shipping. Because we ship exclusively via USPS, shipping costs can be high, therefore we recommend purchasing John's books via an online retailer. Any international orders placed on this website will be canceled and refunded.